What is TotalCloud?
TotalCloud is a cloud automation platform that helps you solve any AWS use case, on every AWS resource.
We've broken down cloud management into blocks that can be combined to create workflows for simple and complex use cases.
Whether you want to schedule your resources or re-balance an Instance Fleet across AZs, you can pick or create a workflow. With a layer above your cloud infrastructure, we eliminate the need to manually access and code on the Console or CLI.
.
What is a workflow?
Workflows are the sequences you build to perform tasks on cloud resources, using logical blocks called Nodes - think of using simple Lego bricks to build any building you want.
This is a simple workflow to stop all EC2 instances every Friday night at 9:00.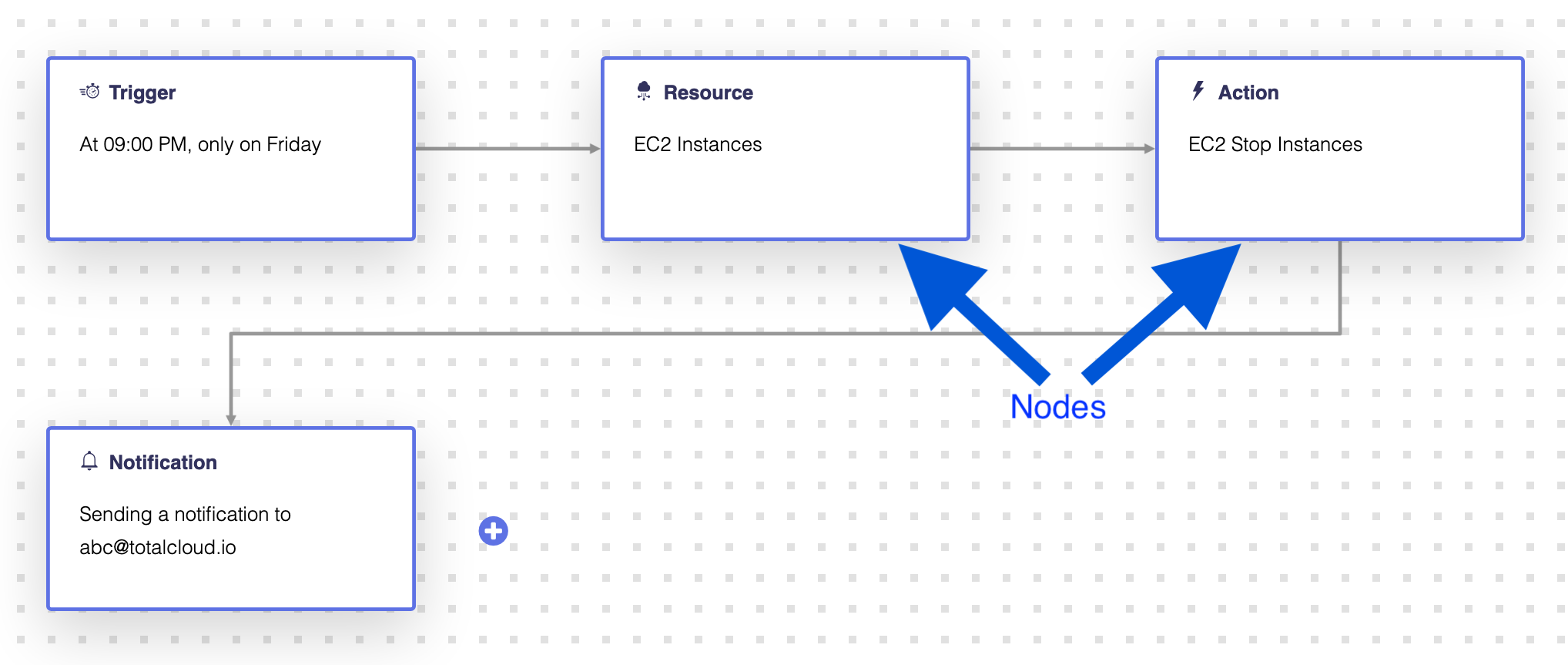 We have a variety of pre-built templates for all usecases (providing insights or executing actions), to get you started quickly.
-
Why is the Templates tab separate from Workflows?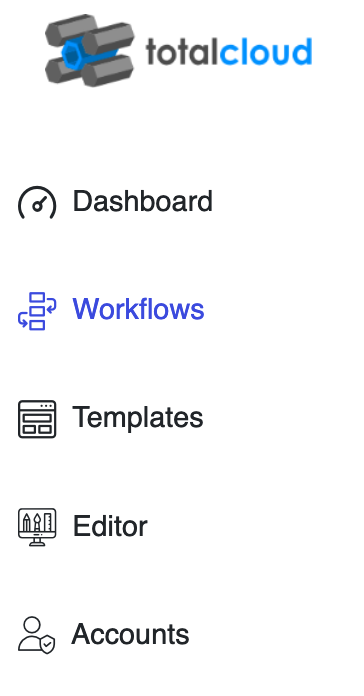 The Templates tab contains the workflows created by TotalCloud for all users to access. Once the templates (or any other workflows created by you) are saved or run, they show up on the Workflows tab.
-
When can I get started?
Right now. Sign-up using email and verify your AWS credentials. Make your first workflow, and using the cloud will never be the same.
-
How much do I have to pay? Do I have to share my credit card details?
You can sign-up for our service for free without providing any payment details. Post a 15-day trial, you can choose to continue on any of our plans.
-
Do I have to download anything?
No. The TotalCloud application can be fully accessed from your browser, without making any downloads.
-
What do these mean, in the Editor?

When creating/making changes to a workflow, Save allows you to store progress and add it to the Workflows page.
Once you have completed the workflow, Run Now is used to save and execute it.
When initially working on a workflow, it is in Stage mode. This means that the workflow will be executed only when it is explicitly run. When it is toggled to Deploy, the workflow executes according to the parameters in the Trigger Node.
-
How are those different from Run Till (when I click on a node)?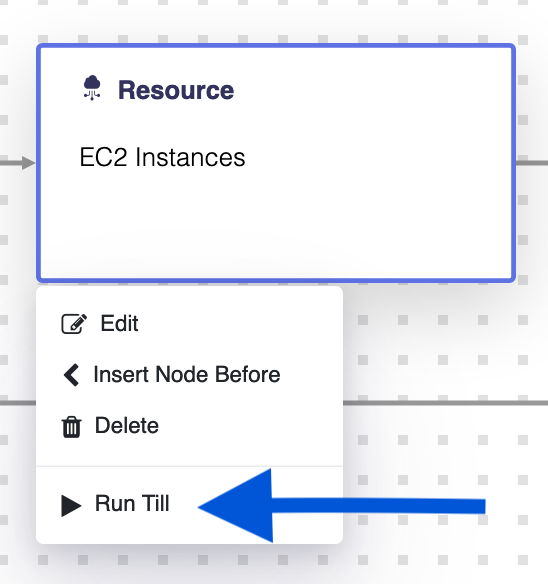 Run Till is a partial execution of your workflow, till that selected node. It will not save the workflow.
This can be used to test the outputs of the workflow till that point, and trace errors.
-
Do I need to give
TotalCloud
complete access to my AWS account?
No, you can use a Role or Key, and give specific access to the services that you will run workflows on.
-
Can I manage more than one AWS account? Do you support all services?
Yes you can. Validate each account using a role or key (and ensure you have permissions to access the instances).
You can run workflows on any AWS service.
-
Will you help with my cloud usage on other providers?
We're working on that, support for Microsoft Azure and Google Cloud will be up soon.
Did You Find This Article Helpful?